https://pbs.twimg.com/media/DdoW1M9V4AAFhV7.jpg
Robinho won four trophies while he represented five-time world champions Brazil over a 14-year period. Robinho is one of a few selected players to make at least a century of appearances for the Brazilian senior national team. The former Real Madrid, Manchester City and AC Milan forward scored 28 goals in 100 goals for Brazil between 2003 and 2017.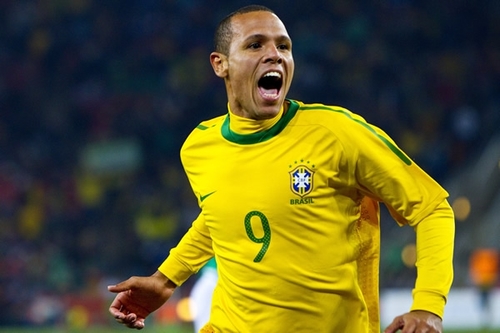 His first trophy with Brazil was at the 2005 FIFA Confederations Cup. Robinho was part of the Brazil squad that thrashedarch rivals Argentina 4-1 in the final to win the competition. The forward started the Argentina game before he made way for Juninho on the stroke of fulltime. Adriano was the main man for Brazil as he scored a brace during the game to lead his team to victory.
Robinho added the 2009 FIFA Confederations Cup title to the 2005 FIFA Confederations Cup title. He featured in the final as Brazil came from two goals down to beat the United States of America 3-2. Robinho played the whole game but didn't find the back of the net. Luis Fabiano (brace) and Lucio were on target for Brazil, while the Americans got their goals through Clint Dempsey and Landon Donovan.
2007 Copa America tournament represents the best tournament for Robinho in a Brazilian senior national team shirt. At the end of the tournament, Robinho was named the best player and the highest goalscorer. Robinho featured in the final of the tournament as Julio Baptista, Roberto Ayala (own goal) and Dani Alves scored to give Brazil a 3-0 win over arch rivals Argentina. Robinho was on from start of the game till the final minute of the game before he was replaced by Fernando Menegazzo.
Robinho won his fourth and final trophy with the Brazilian senior team as part of the squad for the 2014 Superclasicode las Americas, which is contested between Brazil and Argentina. The third edition took place in 2014.